R2F2U
Rags 2 Fitness 2 U! At Rags 2 Fitness we understand how precious time is these days and how difficult it can be for you to head to a gym to do a workout. We come directly to you with our Rags 2 Fitness Mobile Personal Training Service. We will bring the equipment so that you can workout in the privacy and safety of your own home. We fit every schedule and weather is never an issue so there are no excuses!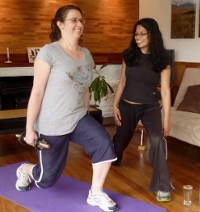 Mums will especially benefit from this option. No need to lug baby off to the gym, worry about finding a minder or even leave home! We will work around baby feeding/sleeping times and your schedule so you can get back into your pre-pregnancy jeans in no time. If baby needs your attention during the workout, no worries, take a few minutes to settle baby and then get back into your exercise session.
We will even train you at your office gym when it is convenient for you. Partner up and train with a workmate and receive a discount.
We cover the Hutt region, including the western hills. An extra charge will apply for locations outside these areas.
Outdoors - Parks/Beaches/Walks
Let us check out one of the many outdoor locations in and around the Hutt region. We will provide the equipment needed to train in the fresh air outdoors.
Contact us now to find out how Rags 2 Fitness can help you.